8 Things You Need To Do Right After You Get Engaged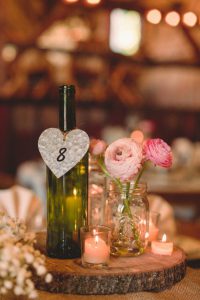 You said "yes!" – and now it's time to share on social media and let all of your friends know you're officially engaged, right? Before you start spreading the news or freaking out over wedding-planning checklists, here's what you need to do first.
Celebrate
Before you share the exciting news with friends and family, take a moment and celebrate with your fiancé! Grab a glass of champagne, savor this time before you let everyone else in on your good news.
Throw a Party
Before you jump into wedding planning, throw a surprise engagement party to announce the news to your closest friends and family! Plus, a party's a lot more fun than a phone call! It's also a great time to introduce key people from your lives who are going to be seeing a lot of each other.
Insure Your Ring
Make sure you talk to an insurance agent about coverage in case your ring or its stones ever need to be repaired or replaced. Most jewelers will provide this service upon purchase, be make sure you understand all the terms of the policy. Find out whether you are covered if the ring is lost, stolen, or damaged, what conditions there are, if any, and how long the claims process takes.
Set a Budget
Prior to making any wedding decisions, you need to figure out what you have to spend and whether your families will contribute. Make sure you and your fiancé are in agreement about your priorities before talking to your parents about budget and logistics.
Plan the Guest List
Once the budget is set, figure out who you're going to invite to your wedding. Even if you're paying for the wedding yourselves, it's a good idea to get the families together and talk about the guest list so there are no surprises.
Pick Your Wedding Venue
Now that you have your budget and guest list settled it's time to pick your wedding venue. Before you jump into the researching venue descriptions, identify what kind of celebration you want and establish selection criteria early. Having an idea of what you want in mind will help you narrow down your options.
Discuss a Date
Once the word is out, expect lots of questions, including "When are you getting married?" Reveal a date if you have one, or let curious friends know plans are in the works—as they should be, especially if you want to hold your wedding at a popular time of year, such as the summer or over a holiday.
Register for Gifts
As soon as people find out about your big day, presents will likely start flowing in. It's never too early to register, not only to help ensure you get something you like and need, but also to make it easier on friends and family who are trying to figure out what to buy you.
At SVCC we aim to help you create your dream wedding in any way that we can, to learn more about the services and spaces that we offer, call us at (905)-847-6477 or contact us and our staff will be happy to answer any questions you may have.
—————————————————————————————————————————————–
Like this? You might also like: